With his background in fine arts, Nacho Yagüe stumbled into the world of concept art when applying for a position at Tragnarion Studios in Palma de Mallorca, only knowing that it involved painting and video games. He has since worked at Ubisoft in Spain, Bulgaria, and Canada and has created art for games like Assassin's Creed, Splinter Cell, and Watch_Dogs 2.
He is currently the Studio Director at the Gameloft Barcelona studio and kindly took time out of his day to chat with Celsys, the developer of drawing and painting software Clip Studio Paint. He granted us a look into his first steps into the industry, shared why he likes traditional media and why he took on commissions using Clip Studio Paint.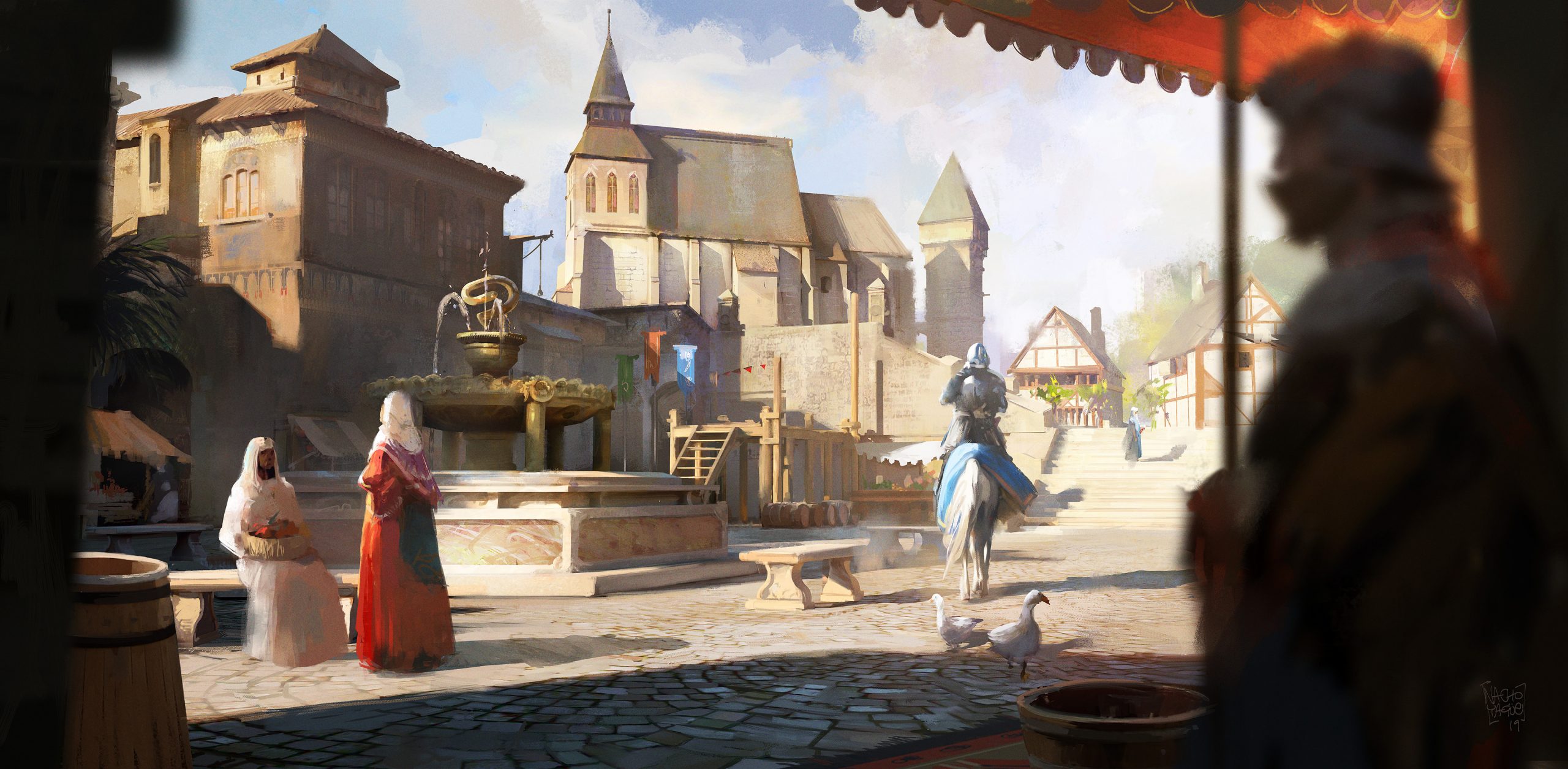 Q: You have been a successful concept artist for a number of years now, but how did you get started in the industry?
In 2000 or 2001, when I was studying fine arts in Valencia, I also worked as a logo and website designer. A guy there knew I was into drawing and video games, and he told me about a game studio that was opening in Mallorca. He suggested that we apply and that I should become a concept artist, even though I had no idea what that meant.
Back in the days, it wasn't the industry it is today, but in roughly two months, I put together a portfolio.
Google wasn't really a thing then, so one of the first results that came up was about framing for paintings. I dug a little deeper and learned that there was concept art for Star Wars, and I understood there were books and movies that had utilized concept art, but there was no mention of video games.
I was unsure of what to put into my portfolio, and I put together 15 paintings while still studying fine arts. And I tried to make something nice for a video game studio, so I added a robot, for example. (laughs)
I managed to get the job, but I was still living in Valencia and about to move to Germany to finish my fine arts degree, and I consulted with my parents about what to do. They told me to go for the job, and we agreed that I would go to Mallorca for a year to work at the studio and try it out, and I never came back. (laughs)
I never finished my degree. Once you get into the industry, you get so busy and meet so many people, that you just keep moving forward. I really liked what I was doing, I made money, and I was developing my skills much faster than I did in university.
Then I moved to another studio, then to Ubisoft and now I'm here. It's been 17 or 18 years in the industry.

Q: You are the Studio Director at Gameloft Barcelona now. What are your responsibilities as a studio director?
I am essentially managing the art direction of all projects in the studio. We are a multi-project studio, and our main game right now is "Asphalt 9," which is a mobile racing game. It was released last year, but since it is a game with ongoing production, we have to release new content every month or every other month, like new cars, new stages, new levels. By the way, we just finished Osaka!
I usually have to focus on three different aspects.
The first is that I have to manage the team as a whole. We are a total of 160 people in the studio of which I manage teams of roughly 40 people, and the main goal is to ensure that everyone is happy and that they know exactly what they have to do.
I try to establish the art direction and visuals for every project and game in the first stage. For that, I usually create visual documentation, something like an art bible, which includes certain rules and visual references that will help the artists to have a better idea of what the game is going to be, for example, in terms of colors, whether to use round or sharp edges, how realistic it should be, etc.
I discuss this guide with the studio manager and the producers until our ideas align. Developing mobile games is new for me, after mostly working on AAA games and there are many other factors important involved in the development of the project like marketing aspects, considering the target audience, retention, etc.
Another thing that I do, and I didn't quite expect, is to help advise my team members on a more personal level. Each person is unique and needs to be heard and attended to. My duty is to make their work in the studio as easy and enjoyable as I can, so I try to help them in more personal aspects as well..
I want them to have the necessary resources, like hardware, software, and training, and I try to provide them with these tools and create an environment for projects that motivates them. This way, they can be their best selves.
The third thing I do is mentoring others when they need help with their work. I am not much of a technical art director; I'm more of an artistic type. Some companies prefer technical art direction that involves a lot of 3D, but my background is in fine arts. If you are looking for someone more into the artistic side, I'm your guy.
Therefore, I mentor a lot of concept artists or 3D artists who want to learn more about composition, what to express with lighting, and why some moods work better than others.

Q: So do you have a lot of new and young artists in your studio?
Yes, definitely. We hire many different kinds of people. Age is not something that matters much to us.
Q: What do you look for in your team members?
One very important thing for me is a person's attitude.
I do a lot of portfolio reviews, and sometimes these highly skilled young people show me their beautiful paintings, but they don't go beyond that. So I ask them questions about why they chose a certain topic or scene, why the walls in their paintings are made of stone instead of marble, for example. I want to make them think about what they are doing.
I like it when people have put thought into their work and they, for example, add some references or even a little bit of text to their work. I want people to be functional and have their own ideas, and I want them to solve problems because that's what concept artists do.
An illustrator can create a beautiful image, purely for it to be beautiful. As a concept artist, you don't necessarily even have to make something beautiful; you just have to solve a problem. I look for people who care about what they are doing and then think outside the box.
As a concept artist, you also have to understand that projects may get canceled. You have to be aware that when you work for a company, you are not creating "your own work," and when the direction changes or the project gets canceled, you need to be able to deal with that.
I also think that sharing is crucial in this job. It's not a one-person job. Those who are proactive, make suggestions, and give something to the team will always be valuable for me.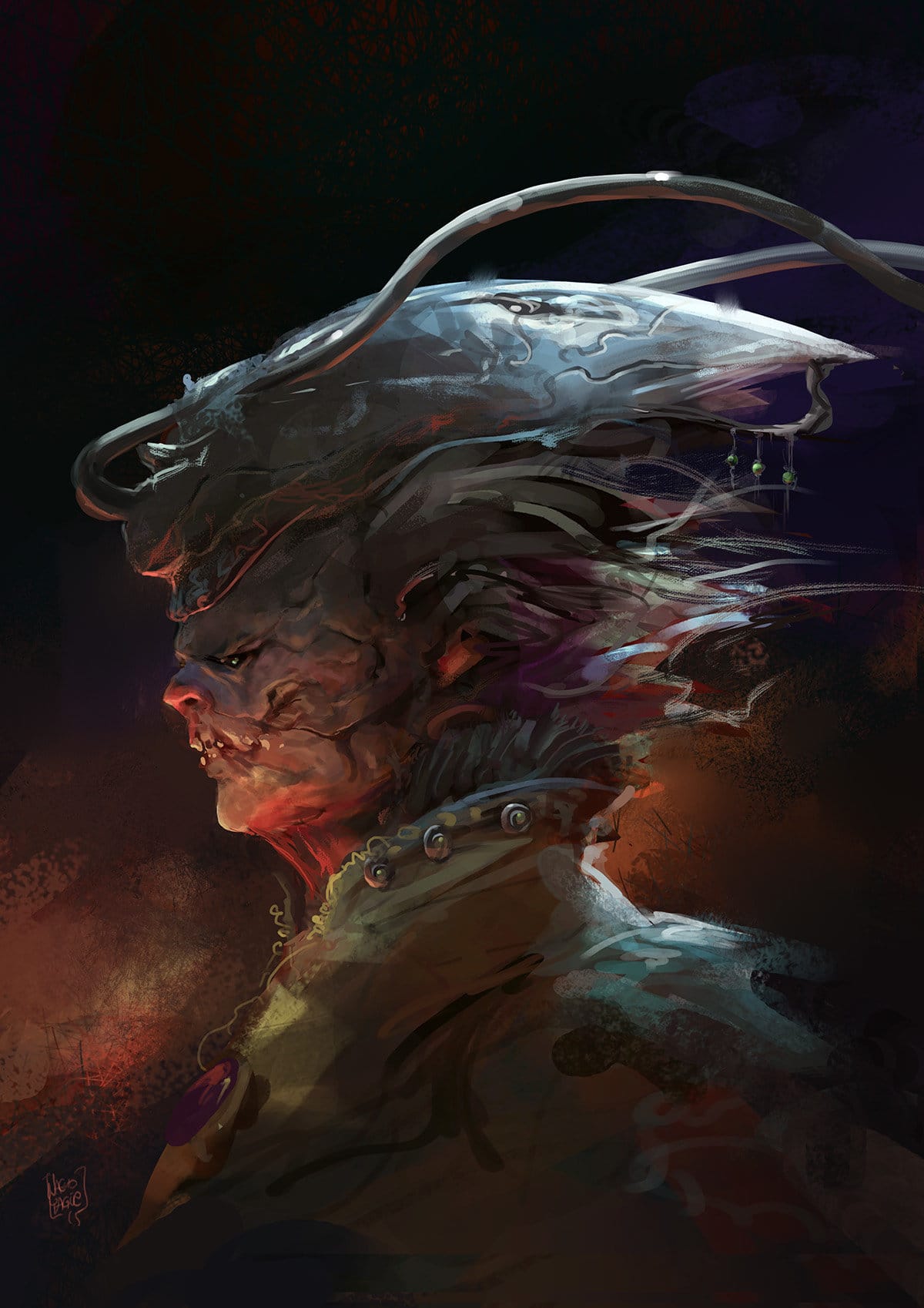 Q: Since you are mentoring people in art and in general, how much time do you still spend drawing in your job?
Not as much as I would like, which is normal considering that I manage the art direction of an entire studio for various projects. A job like this requires dealing with many tasks at once, so I don't have much time left to paint. I worked as an art director many years ago in Barcelona at Ubisoft, but at that time, I probably didn't have the skills to do the job, as I couldn't say "No" when I had to say "No." After that, I worked more just as a concept artist for some years before I moved to work at Ubisoft in Toronto. When I eventually moved back to Barcelona, I had hoped that I would have more opportunities to work hands-on, but it's almost impossible. There are so many meetings to attend and documents to handle, which doesn't leave a lot of room to draw and paint.
I try to get some hands-on time at least once a week. Also, when we start a new project, I like to use that time, in the beginning, to create the key concept art myself. I will create a few fully finished pieces so that everyone can get an idea of what we are doing.
At home I try to practice and improve my skills further. I continue studying new software and new techniques while creating personal work, and occasionally I take on freelance gigs, that allow me to keep developing full projects as a concept artist

Q: What has been your most challenging project so far?
While I have been very lucky with my projects so far, one of the most challenging ones was probably "Splinter Cell: Blacklist," the first game I worked on at Ubisoft Toronto.
Rather than the project itself, the difficult part was moving to a new country outside of Europe, being very young and all by myself. I had worked in Bulgaria before, and I thought that my English was good, but since I had only worked with non-native people speaking English, I realized it was just so bad. (laughs)
Back then, the studio had roughly 160 people, and it wasn't the biggest studio I had worked at until then, but it was the most professional studio, and the one with the biggest titles.
I wanted to find out who the artists are that I would be working with, so I asked the art directors if they could send me their portfolios. After viewing their art, I calmed down a little, since they seemed quite average. However, it turned out that the images were old, and those people were, in reality, insanely skilled. (laughs)
Back then, I wasn't sure I would fit into the studio culture or how Canadian work culture differed from the Spanish one. We also had to release the game I worked on within a year, so I buckled up and decided I had to get working. My skills got an immense boost during that time just because of that fear and stress. Eventually, it was quite an amazing experience, and things only got easier.

Q: You have moved a lot from country to country during your career, but do you think an artist's location is important to find work?
Not anymore. When I started, it was necessary to move to those bigger studios, and of course, if you want to meet the people you worked with, you had to travel. With the internet, you can be anywhere with just your computer and even have a live chat with people in Japan. (laughs)
The other day, I was talking to a friend in Rotterdam, and he was showing me something he was working on, and he just decided to share his screen with me. Things like that are insane to me. That you can just chat with friends and exchange tricks like that so quickly.
So no, I think you can have the same chances no matter if you live in India or Japan, or somewhere in Europe, and work for the most prominent companies if you wanted to.
Of course, you need to be good, and sometimes you need to know the right people.
When I started, I worked on a lot of small titles, but these days, some people start off working on big games, which is impressive.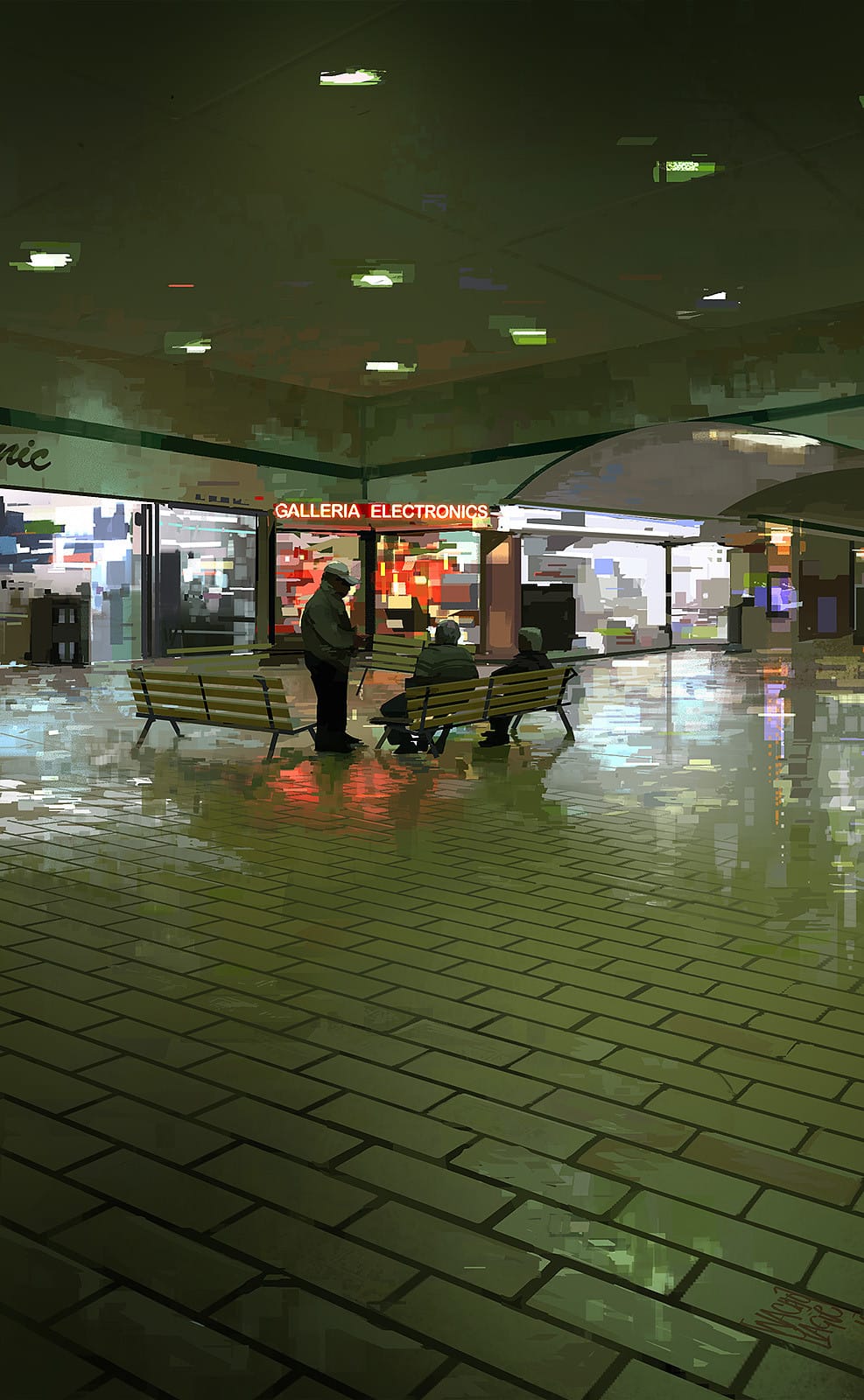 Q: What's been one of the greatest experiences you've ever had thanks to the work you do? 
In general, I consider myself lucky. I had the challenge of moving to different countries and such, but overall, I have been fortunate. Taking that initial "leap of faith" was important, because else, I would not have been able to work in this industry.
Working on Assassin's Creed was probably one of the biggest things in my career. It is a game I have always loved, and I got the chance to live in Canada while working on it, which was a dream come true. Thanks to that, I met a lot of people I admire and who I never thought I would get the chance to meet in person.
Another experience I didn't think I would have is managing people. As a kid, I always considered myself to be very reserved and shy, but I was able to overcome that. Now, I manage a big studio with a lot of people. I work with other large studios from around the world, and even if that is quite scary, it is a big accomplishment in my career.
And then there is talking to an audience. I did my first serious public talk when I was 27 in Mexico, and to this day, it was probably the largest crowd I have ever addressed. It was like a boxing ring with 600 people all around me, and I had to walk around talking while people were screaming at my face. (laughs)
It was probably one of the scariest situations I got into, and it was also the thing that helped me overcome my fear of talking in front of a crowd. I think I have given probably 20 to 30 talks so far and I got to go to Mexico about five times for that. These kinds of opportunities allowed me to meet a lot of people, which is very rewarding.
When doing portfolio reviews, I often meet people who tell me they are fans of my work and look up to me. It is an amazing experience when these people tell you they want to pursue a career in concept art because you inspired them.
Inspiring others is always amazing. Sometimes I can't even believe that it is true.

Q: Do you have a message of encouragement or advice for artists who wish to work in your field?
I mentioned it before, but you need to be patient. Don't pretend to be on the same level as your masters, because it takes time to understand your craft deeply. You can solve some problems with shortcuts and by copying others, but at the end of the day, you need to understand what you are doing fully. Appreciate the skills you are aiming for and always keep learning.
There is no need to rush. Sometimes I speak to people in their early 20s who are worried that they have never worked in video games and ask me how to join a studio such as Ubisoft. I think you need to do things little by little. Thinking back and imagining working in a large studio such as Ubisoft in my 20s, I would have been so stressed out about it.
It's not just about working in a big studio, but also working with a lot of people in a fast-moving environment, where things are constantly changing. You need to be able to experience that properly. So my usual advice is, if you get the chance, do it, because you will learn a lot.
However, you can also work in a small studio, create your own studio with friends, or work on a mobile project, because it's not just about painting, it's about teamwork and learning how to deal with timing and changes.
Another piece of advice is that there is a lot of work out there. Concept Art as an industry is massive. People get worried because there are so many people interested in this field. Still, we live in the golden era of entertainment, and the video game industry is among the healthiest. There are so many indie and AAA studios, new TV shows airing on Netflix, and even the animation industry offers so many options. Animation is not just for kids anymore either, and many TV platforms are bringing animation to a new audience.
There is a lot of work, and you can even do it from home if you decide to work as a freelance artist. If you are good at what you do and push your skills further, you will find work.
– Thank you so much for your time. This was a great insight into so many topics.
Links:
Nacho Yag
ü

e: