Get One of The Last WORLDS Limited Edition Art Book + Hours of Tutorials
Art Director of Assassin's Creed. Sales for this game only are estimated at around 80 million. Raphaël Lacoste was the Art Director of Ubisoft for games like Prince of Persia and Assassin's Creed. He won a VES Award in February 2006 for his work on "Two Thrones" from Prince of Persia.
After this experience, Raphael worked as a Matte Painter and Senior Concept Artist on movies like Terminator Salvation, Journey to the Center of the Earth, Death Race, Immortals 2011, Repo Men, and Jupiter Ascending.
In 2009, Raphael returned to the Video Game industry as a Senior Art Director for Electronic Arts Montreal.Today, he is the Art Director for the Assassin's Creed games for Ubisoft.
---
Worlds Art Book
"Inside Worlds, you will find a great selection of personal artworks, including illustrations, mood paintings, and sketches, but also some of the most iconic pieces I created for the video game franchise Assassin's Creed. I will also be presenting artworks I did for fantasy and science fiction book covers, and concept art and matte paintings for films." Raphael Lacoste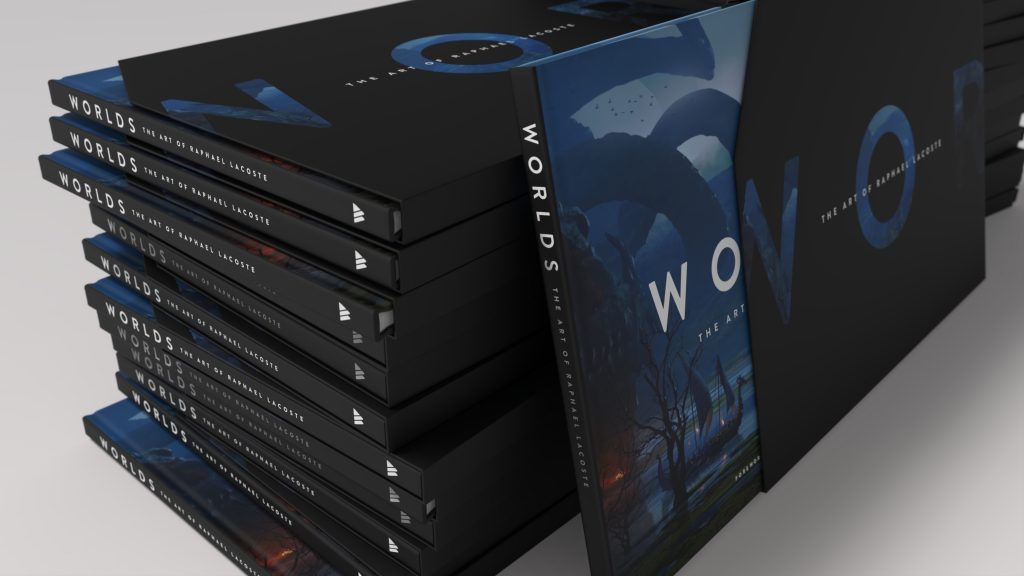 Specification : Height : 23 cm X Width : 31 cm – 100 Pages, Hardcover Slip Cased Limited Edition ( 1500 ex )
Layout designed by

Brent Ashe,  art director, graphic designer and creative director specializing in branding, identity, packaging, publication and interface design. His bold, unmistakable style can be seen throughout his project collaborations with 3A, Ashley Wood, Ubisoft, Marvel, DC, Valve, Bungie, 343 Industries, Hasbro, 2000 AD, McFarlane Toys and IDW.
---
Video Tutorials
3 tutorials an 1 complete file package !
 – Eltznor_Castle 70 Minutes + PSD
– Landing Scene 95 min Video Tutorial
– Landscape Environment Painting 100 min Video Tutorial
– Viking's Lair 3D and PSD Files.
---
Get one of the 70 remaining Issue of Worlds and more than 4 hours of Video Tutorials 
---
*Excluding Shipping Costs